Dental problems are never any fun, but the good news is that most of them can be easily prevented. Brushing twice a day, flossing daily, eating properly and regular dental check ups are essential in preventing dental problems. Educating yourself about common dental problems and their causes can also go a long way in prevention. Kind of food we eat (Junk Food) adds a lot to any Dental Problem , so frequent checkups do really help in maintaining a good dental health.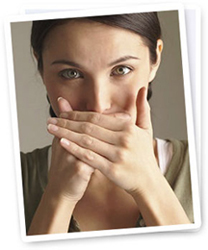 Bad Breath
How Does various food affect breath?
Basically, all the food you eat begins to be broken down in your mouth. As foods are digested and absorbed into your bloodstream, they are eventually carried to your lungs and given off in your breath. If you eat foods with strong odors (such as garlic or onions), brushing and flossing -- even mouthwash -- merely covers up the odor temporarily. The odor will not go away completely until the foods have passed through your body.

Why Do Poor Habits Cause Bad Breath?
If you don't brush and floss your teeth daily, food particles can remain in your mouth, which promotes bacterial growth between teeth, around the gums, and on the tongue. This causes bad breath. In addition, odor-causing bacteria and food particles can cause bad breath if dentures are not properly cleaned.

What Health Problems Are Associated With Bad Breath?
Persistent bad breath or a bad taste in your mouth may be warning signs of gum (periodontal) disease. Gum disease is caused by the buildup of plaque on teeth. The bacteria cause toxins to form in the mouth, which irritate the gums. If gum disease continues untreated, it can damage the gums and jawbone.

Other dental causes of bad breath include poorly fitting dental appliances, yeast infections of the mouth, and dental caries.

The medical condition dry mouth (also called xerostomia) can also cause bad breath. Saliva is necessary to moisten and cleanse the mouth by neutralizing acids produced by plaque and washing away dead cells that accumulate on the tongue, gums, and cheeks. If not removed, these cells decompose and can cause bad breath. Dry mouth may be caused by the side effects of various medications, salivary gland problems, or continuous breathing through the mouth.
Tooth Decay
What is tooth decay?
Tooth decay is the process that results in a cavity (dental caries). It occurs when bacteria in your mouth make acids that eat away at a tooth. If not treated, tooth decay can cause pain, infection, and tooth loss.




What causes tooth decay?
The combination of bacteria and food causes tooth decay. A clear, sticky substance called plaque that contains bacteria is always forming on your teeth and gums. As the bacteria feed on the sugars in the food you eat, they make acids. The acids attack the teeth for 20 minutes or more after eating. Over a period of time, these acids destroy tooth enamel, resulting in tooth decay.

What are the symptoms?
Tooth decay usually does not cause symptoms until you have a cavity or an infected tooth. When this occurs, a toothache is the most common symptom but before a tooth ache arises, a kind of hole forms which can be easily be felt by the toung and if visited early to a dentist, toothache can also be prevented.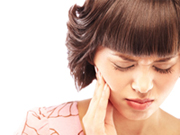 Tooth Sensitivity
Tooth sensitivity is tooth pain due to a wearing away of the tooth's surface or gum tissue. The most common cause of sensitive teeth in adults is exposed tooth roots due to receding gums. Because these roots are not covered by enamel, thousands of tiny channels leading to the tooth's nerve center (pulp) are exposed. When heat, cold or pressure touches these channels, you feel pain.

Ignoring your sensitive teeth can lead to other oral health problems. This is especially true if the pain causes you to brush poorly, making you vulnerable to tooth decay and gum disease.
A regular visit to a dentist is a key to good dental health.
Helpline: 011 69417203
+91 9250934586
Our Dental Clinic Branches:
Sector – 6