Oral hygiene
As part of any thorough oral hygiene routine, regular trips to the dentist are essential to remove any tough plaque and get a thorough, professional clean. Our hygienist services is one of our most important areas providing the essential treatment for removing plaque and tartar (sometimes called calculus) from your teeth. Our Hygienists use scaling and polishing instruments to remove plaque and tartar from your teeth. These polishing instruments will also removed staining from coffee, tobacco or red wine making it more difficult for plaque to build up on your teeth.
Fluoride Treatment
Fluoride is a mineral that occurs naturally in many foods and water. Every day, minerals are added to and lost from a tooth's enamel layer through two processes, demineralization and remineralization. Minerals are lost (demineralization) from a tooth's enamel layer when acids -- formed from plaque bacteria and sugars in the mouth -- attack the enamel. Minerals such as fluoride, calcium, and phosphate are redeposited (remineralization) to the enamel layer from the foods and waters consumed. Too much demineralization without enough remineralization to repair the enamel layer leads to tooth decay.

Fluoride helps prevent tooth decay by making the tooth more resistant to acid attacks from plaque bacteria and sugars in the mouth. It also reverses early decay. In children under six years of age, fluoride becomes incorporated into the development of permanent teeth, making it difficult for acids to demineralize the teeth. Fluoride also helps speed remineralization as well as disrupts acid production in already erupted teeth of both children and adults.

Fluoride treatments are not only used as a tooth hardening agent but can also be used in certain circumstances to alleviate tooth sensitivity. It is commonly incorporated into dental filling materials to help harden the underlying tooth and prevent sensitivity after a filling is placed. Of course, it is possible to place Fluoride-free dental fillings.

Fluoride treatment for teeth can be given to children as Fluoride supplements to strengthen their adult teeth whilst they are developing and when they erupt .Fluoride supplements should only be given on the advice of a dental professional.

Our clinic uses Dentist Fluoride treatments as an adjunct to prevent dental decay. However, we do recognise that some people have concerns regards the use of Fluoride and we are sensitive in such cases.
Pit & Fissure Sealants
The sealant forms a smooth, protective barrier, by covering all the little grooves and dips in the surface of the tooth. Dental decay easily starts in these grooves. Sealants are a safe and painless way of protecting your teeth from decay. A sealant is a protective plastic coating, which is applied to the biting surfaces of the back teeth. The sealant forms a hard shield that keeps food and bacteria from getting into the tiny grooves in the teeth and causing decay.

Sealants are only applied to the back teeth - the molars and premolars. These are the teeth that have pits and fissures on their biting surfaces. Your dentist will tell you which teeth should be sealed after they have examined them, and checked whether the fissures are deep enough for sealing to help. Some teeth naturally form with deep grooves which will need to be sealed, others with shallow ones which will not need sealing.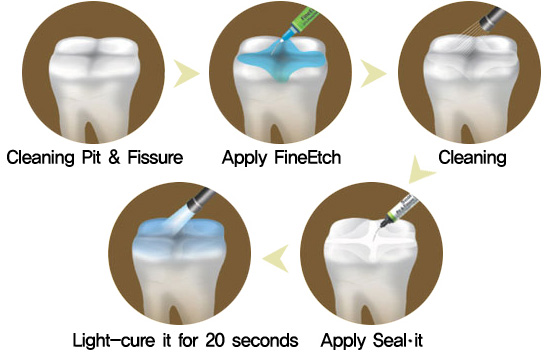 Process
The process is usually quick and straightforward taking only a few minutes per tooth. The tooth is thoroughly cleaned, prepared with a special solution, and dried. The liquid sealant is then applied and allowed to set hard - usually by shining a bright light onto it. Sealants usually last for many years, but your dentist will want to check them regularly to make sure that the seal is still intact. They can wear over time, and sometimes the dentist needs to add or replace some sealant to be sure that no decay can start underneath them.

The process is totally pain free, and the teeth do not feel any different afterwards.