A denture is a removable prosthesis that replaces some or all of the teeth of a jaw. If a denture substitutes all teeth in the arch, it is called a full removable denture or a complete denture. If some of the natural teeth are still present, than the prosthesis replacing the missing teeth is called a removable partial denture. You can visit TLC Dental Clinic for best Dentures in Dwarka with after care.
Full Removable Dentures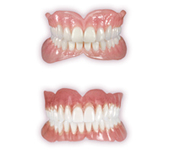 Full dentures are still the most common restoration used today for edentulous (no teeth present) patients. The only other alternative to the complete dentures is implants. Full dentures are plastic plates custom-made to fit each individual. It is made from pink acrylic simulating gum tissue and plastic or porcelain teeth, custom set for each patient.
Helpline: 011 69417203
+91 9250934586
Our Dental Clinic Branches:
Sector – 6